Life is extremely fast-paced today – work, childcare, pets, household chores. The need for fast food delivery to the home, eating a leg, shopping online, etc. calls for innovations to be made to make life easier where possible. In this regard, we can offer you an automated system – Food Warmer Locker. 
Food warmer locker is designed to facilitate the delivery and reception of takeout. When people order takeout and it is not convenient to collect, this locker can keep the food warm.
Our heated lockers makes sure that your hot food stays hot, whether you are picking up an order or keeping your lunch warm. With quick and secure access, don't just store food – store food the right way.
Keeping food warm is designed to facilitate delivery and acceptance. Food can be cooked and kept fresh and warm until it is time to take it out. It is a great way to ensure a quality breakfast, lunch or dinner. We guarantee you that the temperature that develops inside is consistent with the proper storage of warm food (without compromising on taste). 
We guarantee that you will not have a dry and simple hot dish, but taste just as cooked. No matter what occasion you decide to use these cabinets, you will have access to it at all times to get a full meal. And this is the most important thing for maintaining good health and healthy weight. It is now possible to replace the junk food habits with something really tasty but also healthy.
We guarantee that our heated cabinets are extremely easy to use, comfortable, well-hygienic and designed entirely to deliver quality meals. Take advantage of this advantage, you will feel a huge difference from your past meals in the office, outdoors, when in a hurry, etc.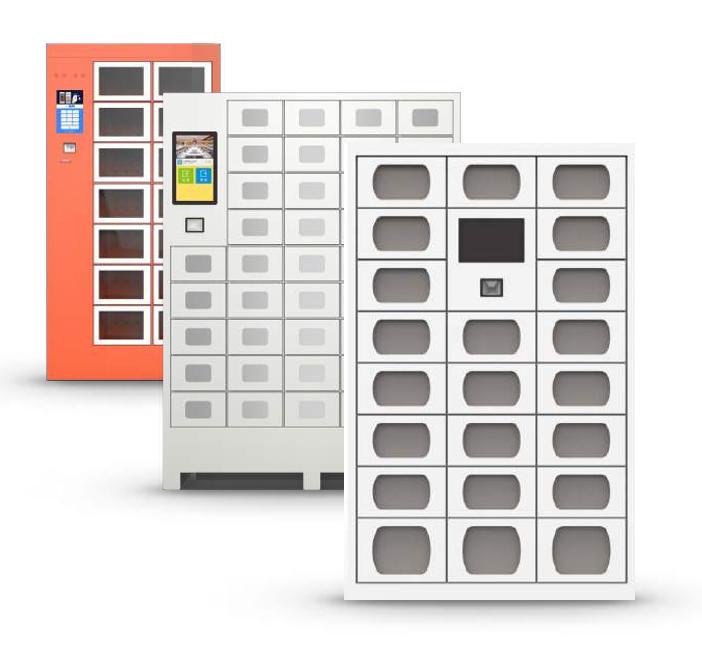 The client makes an order
The items are put in the locker
The Client authenticates and pays at the locker or via our Cyber Hive App
Features of Food Warmer Locker
Today, the abundance of parcels is huge. Along with ordinary cabinets, which can be of different sizes, there are numerous specific ones that allow to maintain a certain temperature. Some products need freshness, some need deep freezing and some need warming. They all find their application and create unbeatable convenience for all participants in the sales process. 
Food Warmer Locker has a number of features and they are:
LCD display and lighting that allow you to observe the food – transparency when receiving any meal

Emergency door opening

function Heating function in any door

Internet connection

System control – automated control system is one of the most valuable features

CCTV supporting operating temperature: -20 ℃ ~ + 60 ℃

feature disinfection to ensure quality food – hygiene and safe environment

Reader maintain a certain range of heated It is – the temperature can be adjusted from 0-60 ℃
Putting Food Warmer Locker is a great solution for different places (banks, hospitals, universities) but it would be extremely useful for office buildings and retail outlets. This option would please many employees who are looking for a way to eat well into the busy everyday life and limited time. A high standard of service should be a priority for every business and retailer. We can help if you contact us.
The Benefits of Food Warmer Locker
The Best Solution for Keeping Your Food Warm, Even With Longer Stay In The

Serving All Markets Who Meet the Challenges of Hot Foods Delivery

Easily and Conveniently Receive Shipments Anytime while facilitating a person's life. Feeding is one of the most important things and it must be tasty and complete

Short delivery time

Save on delivery costs

High security and protection of delivery – lockers are lockable

Ability to store different sized hot food packages

Easy to operate – simple a way of use that is accessible and understandable by every user. The added convenience of managing deliveries through the mobile app
Food Warmer Locker, keeping food warm, contributes to a significant improvement in consumer experience in the durable goods sector. The level of service provided by retailers is increasing, saving money and time.  
STANDARD SIZE
WE offer Unique opportunity to customize our lockers as per your request. All sizes possible. Modular – could fit different spaces. Your Specific model includes only hot storage lockers, but:
Is available also with three options for storage:
Ambient Storage (room temperature)
Chilled Storage (2 – 6 C)
Freezer Storage (-24 -18 C)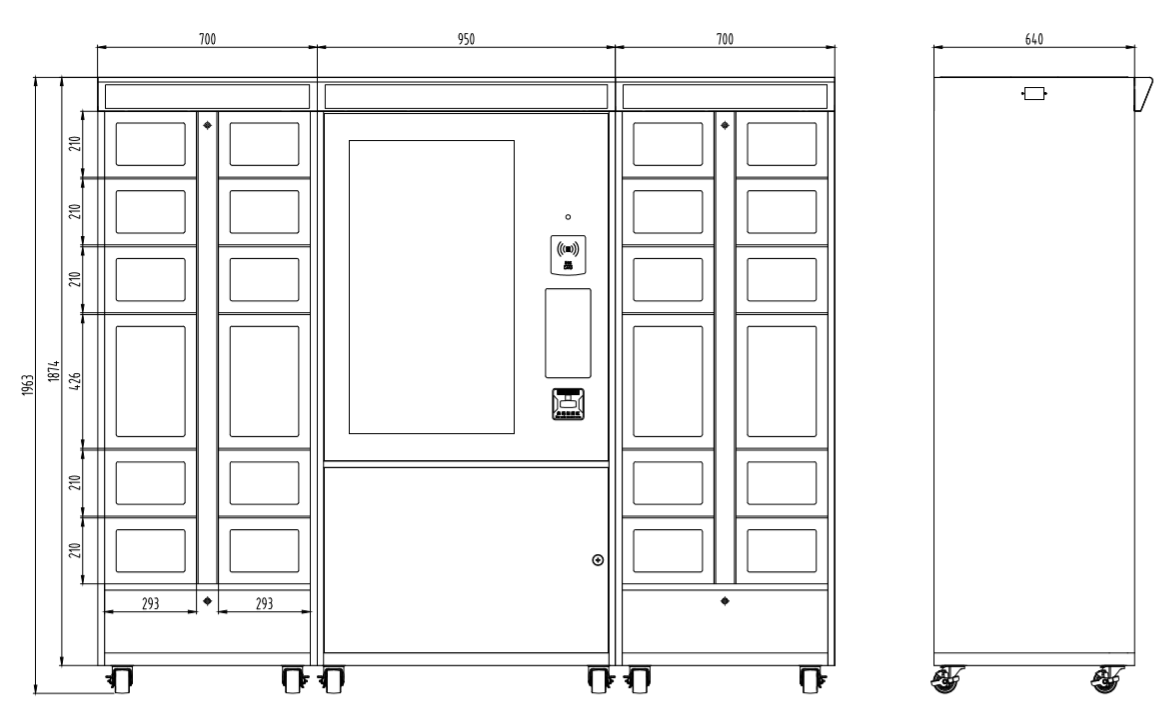 | Main Function | Main Technical Parameters |
| --- | --- |
| 1.LCD display | Appearance Description: Use 1.5mm cold rolled steel |
| 2.Emergency door opening | Side Locker Standard:12door,2rows |
| 3.Internet connection | Main Locker Standerd:32 inch infrared touch screen |
| 4.Syestem management | Operating Voltage:AC220V+  15%(50Hz) |
| 5.CCTV supportive | Operating Temperature:-20℃~+60℃ |
| 6.Heating function inside each door | Operating Humidity:10%RH~90%RH |
| 7.Disinfection function supportive | Power Consumption Parameters:Standby:<15W   Maximum<75W |
| 8.Lighting fuction supportive | Main Locker Rated Power:150W |
| 9.Barcode reader function supportive | Side Locker Rated Power: 380W |
| 10.RFID reader supportive | Heating Temperature Range:0-60℃ |
| | Temperature Adjustment Accuracy:1℃ |
Lets get in touch and discuss how we can help!
UK Office Location
Kemp House 152-160 City Road, London, United Kingdom, EC1V 2NX
Phone Number
Spain Office Location
Address: C/Colegiata N18, 28012, Madrid, España
Phone Number:
+34 (91) 0607378
Email Address
Warehouses - in 15+ countries around Europe and Middle East.