What is Refrigerated Locker?
If you think you are limited in the type of goods you can order online, check out our various parcel terminal offers. The online business is booming now – essentials, electrical appliances, clothing, shoes and even food and beverages are being ordered. Merchants can literally offer the acquisition of all products with one click, fast and safe delivery to refrigerated automatic cabinets. This completely simplifies the way of life of every working and engaged person who wants to use his free time in a pleasant way. 
If you are looking for the best means of service for the delivery of perishable goods, we will offer you the best solution – refrigerated lockers for parcels. Their functions are many, but the most important is the security of the shipment, as well as keeping the durable products fresh and in good quality. 
Maybe until a few years ago, groceries and drinks were the least bought goods online. Today, however, there are many online store owners who offer an abundance of all food products to meet customers' greatest needs. We decided to continue the chain of convenience shopping, so we offer refrigerators for your shipments until you receive them and store them in the kitchen refrigerators. These types of terminals are particularly suitable for other types of non-durable goods, including flowers, cosmetics, medicines and more.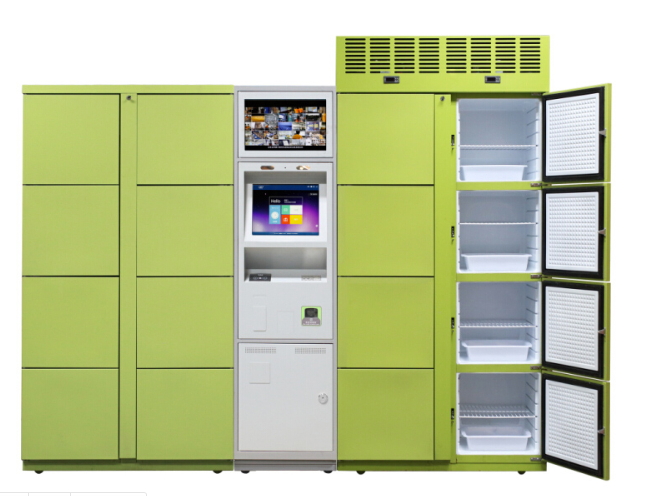 The client makes an order
The items are put in the locker
The Client authenticates and pays at the locker or via our Cyber Hive App
Refrigerated Locker Features
Refrigerated lockers are the perfect solution for online food purchases, storage of non-durable products or delivery of refrigerated packages. A huge part of the world market needs such cells, so you can be part of the group that takes advantage of this. These types of automated systems have many valuable features that are:
Product Cooling – Suitable for storing products with specific temperature requirements. Ability to adjust the degrees in the cell to help maintain the quality of the-speed commodity faster

highHigh efficiency – the cells work with quiet and energy-saving compressors

Safe storage of goods – all non-durable goods (food, medicine, flowers, etc.) are in a safe place until they are picked up by the recipient

No maintenance is needed because the refrigerated parcel terminal has a condenser coil prevents clogging of dust and other airborne particles
Infrared scanner opening package and and items in every locker – smart and automated workflow

Collecting shipments from different couriers and guaranteed delivery to your locker
We know that every business strives to optimize the production process and the delivery process. For this reason, we offer you a reliable way to deliver durables to the end user. Expand your customer circle by increasing the value of your services. Refrigerated cabinets are made of high class materials, have an intuitive design, special paints are used (with different color options). 
Benefits of Refrigerated Locker
personalized solution for all fast-moving goods and those in need of special temperature conditions

Serving all markets that face the challenges of delivering packages of perishable products

Easy and convenient receipt of shipments, while facilitating the life of a person online shopping is one of the most developed sectors today

Short delivery time

Save on shipping costs

High security and security of parcels

Receive packages in different sizes – cabinets vary in size to meet the needs of each customer

Easy to operate – a simple way to use, accessible and understandable by any user. Additional convenience in managing deliveries through the mobile application
Refrigeration cells contribute to a significant improvement in consumer experience in the durable goods sector. The level of service provided by retailers is increasing, saving money and time.  
Don't hesitate! If you need refrigerated delivery cabinets, you are welcome. We will meet every requirement and every need to offer what your customers need.
STANDARD SIZE
WE offer Unique opportunity to customize our lockers as per your request. All sizes possible. Modular – could fit different spaces. Your Specific model includes only hot storage lockers, but:
Is available also with three options for storage:
Ambient Storage (room temperature)
Chilled Storage (2 – 6 C)
reezer Storage (-24 -18 C)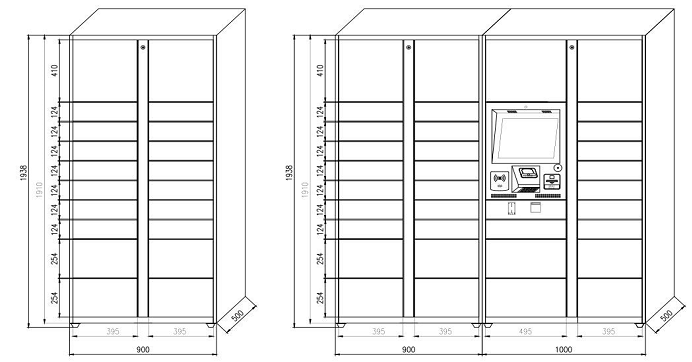 Type
6  door
8 door
10 door
12 door
Power(AC)
220V
Rated input power
300W
Dementions
390*440*454
390*440*317
390*440*235
390*440*181
Weight(kg)
150
150
150
150
Cooling method
Forced air cooling,unit on top
Refrigerant
R290
R600a
R290
R290
Temperature adjusting range
5℃ ~25℃
1℃ ~6℃
-20℃~ -17℃
1℃ ~6℃
Temperature adjusting accuracy
1℃
Box temperature difference
 ≤3℃
Protection features
Delayed start
Lets get in touch and discuss how we can help!
UK Office Location
Kemp House 152-160 City Road, London, United Kingdom, EC1V 2NX
Phone Number
Spain Office Location
Address: C/Colegiata N18, 28012, Madrid, España
Phone Number:
+34 (91) 0607378
Email Address
Warehouses - in 15+ countries around Europe and Middle East.