Automated parcel lockers are a comparatively new system in logistics. However, in recent years there has been a strong interest in them because of the benefits they bring to the business. They are a necessity that actually facilitates the service of online orders and deliveries. There is a steady increase in university, hospital, office, commercial and multi-family supplies. Wheeled terminals serve precisely their faster, cheaper and secure receipt by end customers. 
Every manager knows how complex and binding many activities the delivery process is. Wheelchairs facilitate a number of activities because software is used that eliminates to a large extent human intervention. This leads to faster and more efficient service, greater customer satisfaction and savings in operating costs. 
Understand what a parcel terminal is? What are their advantages? Where do they find application? What models and sizes are available?
What is an electronic parcel locker?
The parcel cabinets are an automated and secure system that allows the consignment to be stored and retrieved 24/7 by the recipient. They serve the better logistics of any business industry as they are offered in a wide variety, even with cooling cells, cells with function to keep frozen products fresh, etc. 
Automatic parcel terminals are suitable for installation in many different places – in the city, at the entrance of blocks with multifamily families, in offices, in commercial buildings, in complexes, schools, universities, hospitals, etc. They are usually located in more common areas that couriers and postal staff can easily access. These lockers are a great way to get different shipments quickly and pick them up when you are comfortable. 
Automated parcel lockers serve both logistics and people who have an extremely fast daily routine and shop massively online. You do not have to pay expensive deliveries to an address, wait for a courier at the agreed hour, or leave work to get to a courier office. This is the future of any business that wants to attract more customers and improve its service process.

Types of Terminals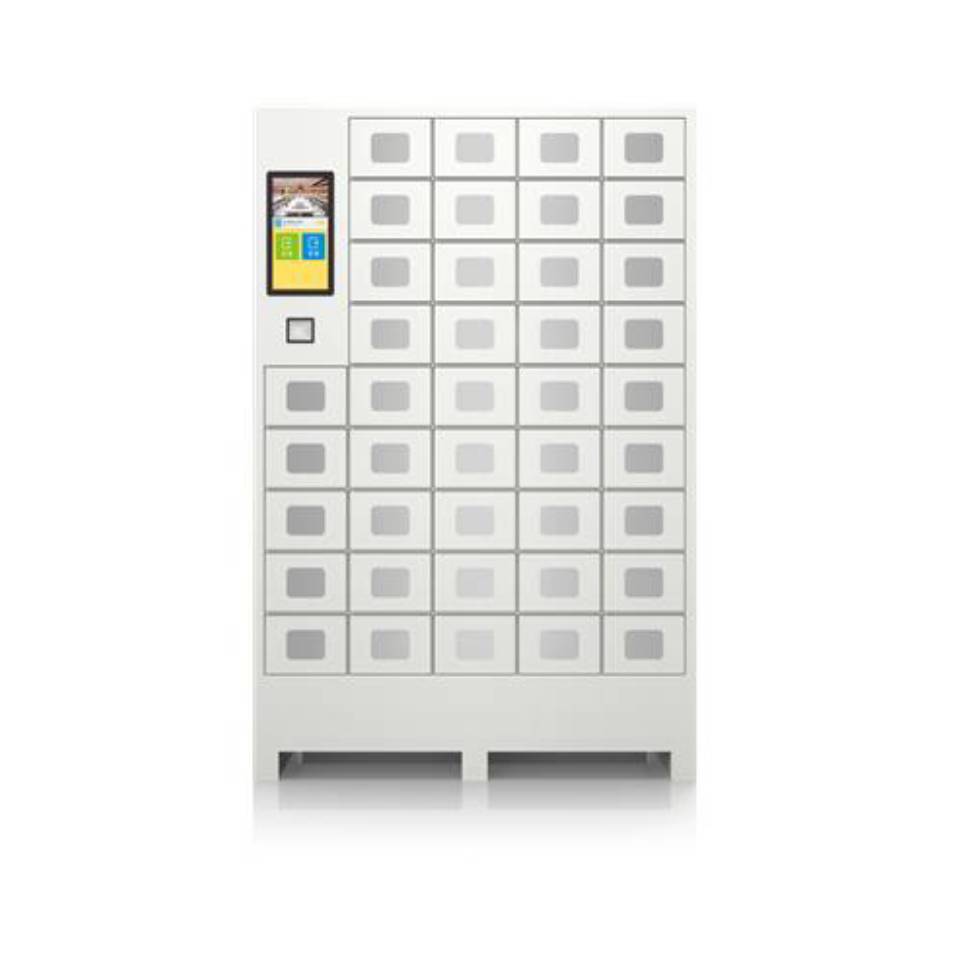 Parcel Hive Parcels can offer you extremely easy package management, offering the type of cabinets your business needs. Many years of experience and high qualification have clearly shown us the needs of our customers, so today you can install a wide variety of terminals. 
The aim is to simplify every type of supply in every field of activity. A wide range of products can be delivered and stored appropriately, such as:
Foods that require freshness, chilling or freezing

Drinks

Clothes

Shoes

Groceries

Medicines

Flowers

Larger packages
Types of terminals can be divided into several types:
All these terminals serve to improve and facilitate deliveries at the expense of reducing human labor and resources.
Dimensions of kiosk terminals
Kiosk terminals can be very diverse – with different intuitive designs, colors and sizes. The type of automated system depends on the needs and location at which it will be installed. This, in turn, depends on the number of users who will use the lockers. 
Size variations range from a small mailbox designed for each home (such as in front of the house) to several column terminals to accommodate more parcel deliveries. Usually larger automated systems are suitable for locations such as retail outlets, large supermarkets, hospitals, universities, multi-family cooperatives. 
The abundance is large, so any business, building manager, or other person could integrate the lockers of their choice for convenience. This step is appreciated by employees, by future home investors, etc. Many users tend to pay a higher price for a property or visit a particular store because it has a similar option for receiving shipments.  
How do automated parcel lockers work?
Parcel Hive lockers are an automated system based on high technology. The process of operating this electronics goes through three steps. Who are they? 
Step 1: Delivery of the package to the terminal
Delivery is by couriers. The particular person responsible for placing the shipment at the terminal must enter an access code. He signals beforehand and receives the secret code accordingly. The recipient is selected and placed in the specified locker – at the specific address and in the appropriate size. This secret system has been designed for security and delivery.
Step 2: Notification of the consignee of the delivered shipment
This step is again automated. Upon delivery of the package by courier, the recipient shall be notified immediately by email, message or mobile parcel delivery service, if used. To minimize misconduct, such as abuse of another person's shipments, the recipient also has a locker access code. This is the only way he can take the goods received.
Step 3: Pick up the package from the locker
Usually, the recipient selects a terminal near where it will be most convenient for him to pick up his shipment. In order to receive his goods, he has to go to the location of the corresponding locker, then enter the access code and scan the barcode. If everything is correct, the locker will open and the recipient will pick up the delivery.  
The operation of the terminals is as simple as possible so that it can be used by anyone without the need for extensive technical skills. They are designed to facilitate e-commerce and reduce delivery time. You can also download the Parcel Hive mobile app for even more ease.
What are the benefits of lockers?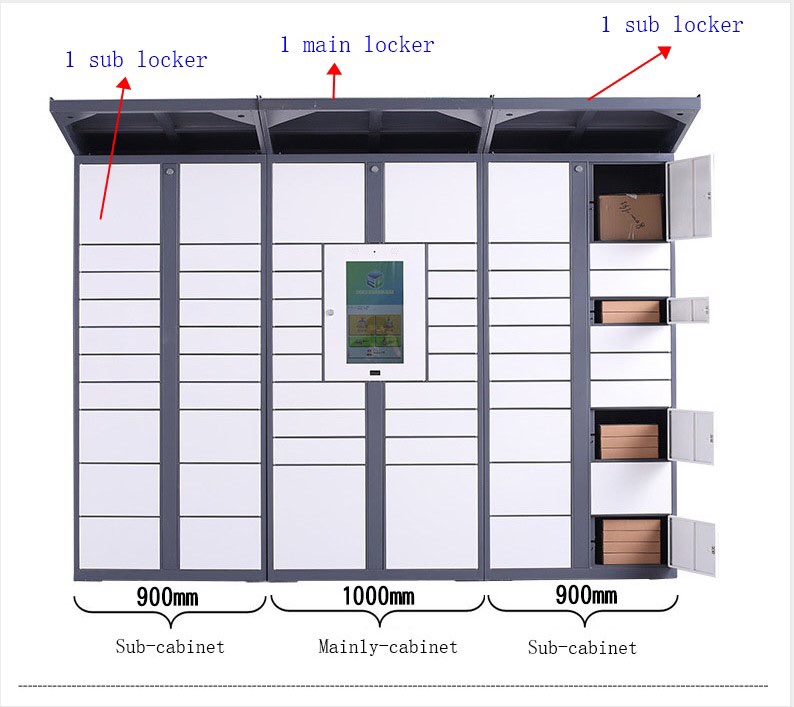 E-commerce has a huge need to automate logistics processes. The benefits of automated parcel terminals have great advantages in this regard: 
Guaranteed delivery
Choose an automated product delivery system instead of wasting time to travel to the other end of town to get them. Wheeled terminals are secure and guarantee successful delivery to the end user. Upon receipt of the shipment, each user is aware of the shipment and can receive it from the closest location to it. 
High security of storage
The lockers are equipped with surveillance cameras and open only with pre-given access to them – for the couriers and the respective user who needs to receive their shipment. In addition to high security technologies, there are many options for storing goods. Cooling and freezing cabinets are available, with heating mode and more. This means that the goods are in a safe place and in proper storage until they are picked up by the consignee. 
Self-service 24/7 The
serviceability is one of the biggest advantages of parcel terminals. The recipient is not dependent on office hours of courier offices, does not have to waste time because he chooses lockers with a location that is close to him, etc. In short, you need to have an access code / card and be able to get the shipment delivered both during the day and at night. 
This type of courier delivery greatly facilitates many individuals and industries, saves a lot of manual labor, has the security of your consignments and is a great convenience for both business and recipients. 
Save on shipping and manual labor
The benefits of automatic parcel terminals are for both the consumer and the business. Save on transport costs is one of the biggest items that can be called a benefit of an automatic system. Advances in technology are a must. Thanks to them, many operations are performed automatically, saving time, effort and resources to perform some manual activities.
How Secure Are Lockers? 
Although some businesses and consumers may not perceive automated terminals as a sufficiently secure delivery system, their consumption is increasing globally. Undoubtedly, after personally testing their way of working, many business industries and consumers are partnering in these technologies. 
Despite self-service, parcel lockers are a safe place to store your shipments. Video surveillance equipment is specifically designed to limit vandalism, such as theft, etc. In addition, the material that each terminal is made of is special and extremely reliable – in adverse weather conditions, anti-painting, etc. 
Each access to the locker is via a special PIN code. Only through his knowledge can you peek inside and get your shipment kept in a safe place. Additional protection is also the insurance of the goods provided by the business. 
In addition to security, you get lower shipping costs for delivery in less time. Even those who send mail frequently and in large volumes can get an even better deal for more preferences in shipping costs.
Where do they find application?
If you are asking yourself, "Where do these secure parcels come in?", The answer is almost everywhere. The reason for this is that the model is not one single and universal, but has different types with a variety of specifics. Online commerce is not limited to certain goods, but you can order everything – clothes, shoes, cosmetics, perfumes, baby goods, flowers, household goods, food and drinks that require a special regime (freshness, freeze warming), medicines, etc. n.  
Choosing a size is a great opportunity to apply in many places – such as personal mail in front of your building or house, in open key urban spaces with human traffic, in metro stations, gas stations, shopping and business centers, etc. The most important thing before installing such an automated parcel system is to identify the specific need. If the goal is to deliver relatively small parcels, then you can save costs by betting on smaller cells or a combination of one or two larger parcels. This will eliminate the unnecessary cost of renting the place and the final price for most and larger cabinets. 
Automatic parcel terminals, working with a personal code, chip or bracelet, are also very suitable for temporary storage of luggage and some small things at the airport, railway and bus stations, swimming pools and complete water parks with spas, sports centers, fitness and more.  
Software 
The entry of new technologies is the right path to the future. Various software breakthroughs improve property management significantly. Efficiency is an important factor and should be key for any business industry. Automatic dashboards feature intuitive software that enhances customer satisfaction. 
Anyone aware of the need for such a system could install it in the right location, ordering a complete solution – a package of terminal and software. In this way, you can build a reliable and extensive network of fast deliveries, a point of receipt, well-developed e-commerce. 
The advantage of our parcel cabinets is that it not only includes standard parcel services, but is personalized to meet individual needs. The possibilities are many – different mode in the cells (some with cooling, others with warming functions, others maintaining low degrees, which are suitable for frozen products), different cabinet sizes, a variety of additional options (calling fees, payments, parking and etc.)
Software diversity is intended to facilitate the delivery process. It may include many other activities:
Receiving an invoice

Issuing an invoice

Discount system

Automatic rent reporting for the relevant cell

Flexible loading of goods

Availability of sensors, CCTV cameras and alarms when needed

Reporting on the actions of customers and operating personnel
In addition to all these automatically performed activities, the software can adapt to different types of devices and is a personal solution that is constantly expanding its functions.
What is Bopis?
BOPIS is a common practice for purchase – it is ordered online and the goods are delivered to the store. Thus, in most cases, the value to receive is 0. This way of buying is liked by consumers, because already over 80% -90% choose to make online purchases before physically shopping. 
This is exactly what the introduction of the so-called BOPIS required. There is almost no retailer that does not offer this option due to its many advantages:
Improving the efficiency of the user experience

Attracting new customers

Free delivery for customerscustomer

Less work in physical stores andservice

Easy and fast delivery, etc.
What is online purchase, Pick Up in Locker (BOPIL)?
If you search thoroughly, you can very easily find a reliable supplier for online purchases. BOPIL is actually a "pick-up" service, unlike the traditional BOPIS procedure, which is an online purchase from the store, as well as the eventual return, etc. 
Online shopping is suitable for all kinds of retail goods. So, this is good news for all customers because they can easily and conveniently order groceries, clothing for adults and children, children's accessories, cosmetics, electronics, medicines, flowers and more. Shopping online is a click away, but delivery and collection are much more convenient. You receive a notification by e-mail, SMS or via a mobile application and go to the specified terminal cell, which is self-service.
How can your property benefit from parcel lockers? 
Parcel lockers can eliminate a number of difficult processes that are associated with delivery to a property – receipt, redistribution and delivery to the final recipient. Every property manager could save time and effort, as well as maintenance costs.
Streamlining the delivery of packages is guaranteed because:
You save the time of the service staff – a large part of the working time of the employees could be spent in a lot of work related to the packages. Instead, the parcel terminal could reduce the time lost in this process.solve

Youmore important tasks – the obligations of a property, regardless of size, can vary. The tasks never end and that's why it takes time. Leave some things that can be done automatically, such as parcel deliveries, and instead take on key commitments on the property.

Additional benefits are provided for customers – flexible service is tolerated nowadays. People like to pay their bills online, make product choices online, and so on. Self-service through delivery to a parcel is another advantage that customers of your business will like.

Secure delivery – secret codes are something that contributes many times to the security of each individual shipment. Only through it the cell can be opened and the shipment taken

Reduced risk – all automated systems are focused on reducing the risk, both in terms of receiving packets and in terms of their incorrect placement.
Your property can be equipped with a parcel terminal distributed with individual cells. Each terminal can be customized to build even more trust from residents. It can be made in different sizes, colors and glued in a specific way. 
Delivery to such external terminals provides 24/7 access to anyone wishing to pick up their shipment left at a terminal specified by them. All this makes shopping very easy and affordable, because everyone will receive their goods literally at their fingertips.
How to improve the efficiency of property management?
Effective property management is a serious responsibility. A very large part of the responsibilities in it "lie on the shoulders" of the general manager, which must be able to redistribute the tasks of its employees. 
If you are worried that the responsibility for the overall maintenance of the property is your responsibility, as well as the documentary part, requests and delivery of packages, then you can get rid of them in an hour.
Do you know how you can improve your management efficiency in three steps?
Step 1: Prioritize time and tasks
Every property manager has many responsibilities and many desires on the part of the tenants of the property. However, do not go into too much depth, because time is precious. You need to do everything to prioritize your time to make full use of it. 
Follow the pyramid of your tasks – start with the most important and urgent ones and gradually "conquer" upwards. 
Step 2: Reduce or streamline some tasks
The future lies in automation. Employment is always increasing, so it is necessary to remove from yourself the performance of certain tasks. Streamline a number of processes, such as parcel management. This is an activity that can save you a lot of time if you install self-service parcel terminals. 
Step 3: Choosing conscientious and responsible subordinates
Choosing the right staff is a responsible and sometimes quite difficult task. However, the effort is worth it, because it will ensure a secure support for the various tasks related to property management. 
Step 4: Invest in automated packet technology The
introduction of any type of technology, of any type, is a sure sign of a good future. Without a doubt, parcel terminals will facilitate much of the process of collecting, redistributing and transmitting packets. This system is more than secure and self-service. This implies minimal influence on your part to organize this task.
In addition, you will help to improve the user experience because you will be able to open the box and receive your shipment at any time (after receiving notification that the goods have been received).
How to effectively manage delivery packages?
E-commerce is a sector that is developing at a lightning pace.  Delivery to the last mile is among the most popular. However, the challenges increase over time. They require moving packages from local centers to the final destination, which makes the process cumbersome and sometimes errors occur. 
Despite the constant efforts of the postal carriers to make the delivery as fast as possible, some wrong steps are taking place. Misunderstandings between property managers and couriers may also arise, which will again slow down the delivery process. 
Upon delivery to an address, if the owner of the parcel is not there at the moment, there is again a return and redistribution, etc. There are many unpleasant situations when delivering packages to residential buildings, multi-family complexes and others. Then the property management staff is obliged to make the delivery to the last mile. This may be a good option for the courier, but not for the managers and service staff of the property. 
The whole procedure takes a long time to organize and deliver to the final recipient. That is why there is a very good solution – parcel terminals with lockable cells. 
Here's how package lockers actually improve delivery:
Couriers are committed to placing parcels with a personal cage. Thus, property managers are completely relieved of the heavy commitment to delivery.

The consignee is immediately notified that his shipment is placed in the locker.

Each consignee can go to the parcel terminal, open the box with the received secret code and pick up his goods. This can be done 24/7, as the terminals are available at any time.
How to use theft lockers to prevent theft?
Probably in the beginning you will not be so euphoric about the next lockers that can be placed in front of your home, because you have encountered a number of troubles so far. For example, a package stolen from the balcony or from the mailbox. This is perhaps one of the obstacles that property owners face when ordering to an address. 
What happens most often? On the day of arrival of the shipment, tremble all day at work. Whether when you return you will find the appropriate products, or you stay all day at home to wait for the courier. This whole process is stressful and uncertain. 
Automated lockers are the ideal solution against theft. They are designed to handle inadvertent theft and can only be unlocked by an authorized courier who has a secret code. 
What are the advantages of parcel cabinets in terms of theft prevention?
Here's a summary of why you should choose a terminal box over any other delivery without worrying about the security of your shipment:
Each cell has access to a maximum of two or three people who are authorized to open it through a personal code. These are the courier who places the package, the property manager and the recipient.

The recipient of the goods receives a delivery notification by email, mobile application or SMS. He then receives the secret code with which he can open the cell.

In addition to all protective equipment, the cells are also made of a special material that is very difficult to break, the surface is scratched, etc.

Access to the cage is 24/7, which means you can pick up your shipment instantly. More thefts take place after investigating the thieves – while the owners are at work or out of town, etc.
Advantages of the mobile application for package delivery
Everyone would like to know the exact time of delivery of their order and get it as quickly as possible. The app is the best method for this, along with notification by email or via SMS. The mobile application is more comprehensive than other methods and facilitates the user. 
Opening the cell is simplified as much as possible, because it only takes one click on the phone. Everything is so simple and easy because the future is based on this principle. 
How does the package delivery application work?
The delivery application is identical to the alternative method, just the notification is done through the mobile application. Here are the steps:
Step 1: The authorized courier delivers the respective package in an individual cabinet for electronic parcels. It uses its own unique access code for this purpose.
Step 2: The recipient then automatically receives a notification of a received shipment in the installed application on their phone. 
Step 3: The recipient must go to the parcel device to pick up his package in person. The cell is opened via an provided access code. 
Step 4: The recipient takes the package from the locker and closes it.