The availability of quick purchases dates back many years. The most widespread is the practice of McDonald's, namely "shopping on wheels". You avoid physical queues, but line up after previous cars. However, it is a relief – you do not have to park, get out of the car, etc. 
It is similar with the use of Curbside Pick Up. This type of service is more than reliable and develops rapidly due to its number of advantages. The goal is to make it as easy as possible for people traveling along a certain route. There is no need to deviate to get shopping online, because Curbside Pick Up are located in many places. 
Making purchases is quick and easy, literally at your fingertips – through a technological machine located on the curb. It is also a good option for all retailers who want to improve the consumer experience. 
Who offers Curbside Pickup?
Basically, two types of groups are assigned to those offering Curbside Pick Up:
Merchants
The whole group of merchants is aimed at attracting customers through the service "Curbside Pick Up". Larger companies are already betting on great success, while smaller ones are struggling to be included in the large group of sellers by curb machine, but are facing difficulties due to lack of infrastructure.  This opportunity is the best way to attract new customers as well as retain current ones. The competition is huge in every commercial area, but with fast, easy and reliable delivery to an outdoor machine, many loyal customers can be won. 
Restaurants
Restaurants are the next group, focused on the increasing supply of this service. The industry operates on a slightly different system, but the principle is clear. Many restaurants work with "ten-minute outings", in fact designing closer parking spaces. The employees deal with part of the organization – they display the transfer order. 
Why Curbside Pickup is the driving force at the moment?
What is really hidden in the essence of the offered service? The two most valuable things for every user – convenience and time saving. Curbside Pick Up is undoubtedly one of the innovative but fast-growing technologies that customers are looking for. Online shopping with delivery to a parcel terminal or the so-called "drive-thru" option of fast food chains are factors for which consumers are willing to pay an even higher price. Even more pleasant for shoppers is that you have to pay a higher value
Here are a few additional advantages of taking from Curbside Pick Up are:
Loyalty –

customers become attached to this type of purchases over time and remain loyal to brands that offer them this convenience. Appreciate every detail that guarantees them fast and secure purchases taken from an easy and accessible place

Customers are "addicted" to shopping from a curb terminal – in

addition to the loyalty that is achieved over time, customers increasingly need to receive such offers from traders. Now is the time for all retailers to consider the option of offering convenient and fast pick-up on the go. Only with this advantage over the competitors, a number of customers would bet on your services.
Ease of shopping, even for basic necessities –

people know that they can save a lot of time if they stop at one place and find everything there. Without wandering around the store, queuing up and waiting for staff service. Here the whole process is self-service, but on the other hand you can find everything in one place. Customers find this opportunity as a "lottery win" because they can save a lot of time and everything is much easier.

Delivery at a low price –

although you think that all this convenience will cost you more, on the contrary. Quite the opposite – Curbside Pick Up comes at a more affordable price.
Supply regulation – how?
In order for companies to offer supply regulation in an efficient and streamlined way, they need two main components:
Workforce
All this outsourcing work is great, but it takes time and effort for employees. The workforce is a key moment for a more rational and quality service. This is the main reason why a number of traders cannot cope with the task of selling from outside and cannot stand out from the competition. 
Updated list
As well-organized as the curb ordering process may seem, complications can often occur. There may be problems with the items available – some to be in stock and there will be a delay when the person is standing and waiting to take his entire order outside. It should be clear which items are out of stock. 
Is it the right solution for your company?
Curb parking can be as good an option as it is not. It all comes down to whether the place has a good enough infrastructure, whether you have the necessary resources. You need the following:
employees to perform the tasks of product packaging and preparation for their rapid take-up

technological infrastructure

parking spaces where employees can charge customers' cars
Think carefully about everything said so far, make a plan, emphasizing all positives and negatives and you will find the right answer for you. Providing this service will bring many dividends to your business and will improve your position among the customer base and especially the competition. 
Parcel lockers – wide use and many advantages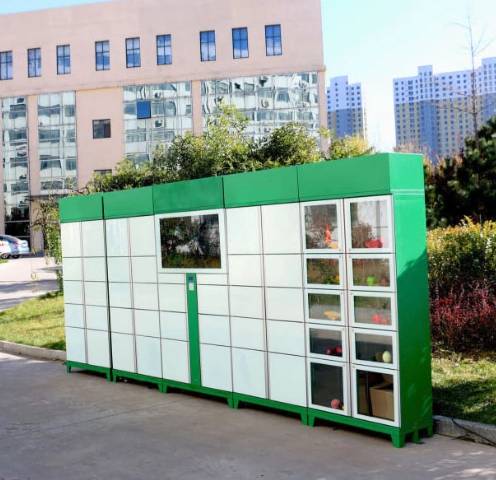 The possibilities offered by parquet lockers are as many as the implementation of Curbside Pick Up. Using smart machines will also bring benefits to your business because it will improve service, reduce costs and facilitate the online ordering process.
Here are their advantages:
Order tracking –

this is one of the key factors for reliable deliveries. With the order tracking function it is possible to easily execute several orders at once. In this way, each delivery to a parcel terminal is illustrated, after which the recipient opens and picks up his shipment with a unique code. In this case, time and costs for redistribution of orders are saved and the trader has complete peace of mind for the movement of the order.

Full self-service and pick-up at all times – parcel terminals cost relatively little resources to traders and also make it easier for customers. Self-service does not bother the recipients of goods with a certain schedule for collection, waiting in lines and others. Usually most terminals are located outside and allow picking up shipments 24/7.
Temperature-cooled terminals –

they are a great solution for goods that need to be stored cold – most often a variety of food products. Unlike the parking service, where there is some time in which the products can be heated, the lockers keep them constantly cool until the recipient takes them personally. Thus, perishable goods can be stored properly, even if they are not in a physical grocery store.

Combining with separate parking – the best solution for your business – this option is 2in1. You use smart lockers, but parking spaces can be set up near them. This saves a lot of time and effort that employees otherwise put into servicing through Curbside Pick Up. Eliminates waiting for employees from outside while customers arrive. In this case, customers park a little to the side, take their order in seconds and leave.