What is a Fresh Locker?
Most consumers find it convenient to shop online and tend to buy all kinds of goods this way. If you, as merchants, can offer them reliable and fast delivery to a place near them, then customer loyalty increases. We can offer you alternative delivery options if you want to outperform your competitors who operate the traditional shipping method. 
Over time, we have been able to revolutionize the world of some technological innovations thanks to our engineering teams. That is why we can offer you a variety of parcels thanks to which there is no limit in the type of goods that customers buy. We are prepared for any occasion. For the most commonly purchased items (clothing, shoes, accessories, etc.). Also those that need special storage (temperature, humidity) – many types of non-perishable goods, fresh fruits and vegetables, etc. 
When designing our Fresh Lockers, our specialists have tailored every detail to maximize the effect of placing specific products in them. As their main purpose is to keep food fresh, they keep the temperature between 2 º to 7 º C. These type of cabinets have insulation from polyurethane foam, fan cooling and refrigerant gas. The cabinets and doors are made of stainless steel to protect shipment and longer durability.
The client makes an order
The items are put in the locker
The Client authenticates and pays at the locker or via our Cyber Hive App
Fresh Locker Features
Thanks to the various terminals that keep the product fresh, shopping of any type is possible today. This is a huge benefit for all online store owners as well as busy users. Automated System – Fresh Locker is what every business in the fast-moving market needs. 
Maintaining the freshness of the products until they are picked up by the recipient – suitable for storing products with specific temperature requirements. Ability to adjust the temperature in the cell to help maintain the quality of the fast-moving commodity faster

High efficiency – the cells work with quiet and energy-saving compressors

Safe storage of goods – all non-durable goods (fruits, vegetables, fresh meat, etc.) are a safe place and in the same good look at their receipt

presence of a surveillance camera to ensure the protection of the consignment

Intelligent measurement and control of temperature

Availability of digital electric

Leakage protection

Infrared scanner o Skewed packages and elements in every locker – smart and automated workflow.
Collection of items from various couriers and guaranteed delivery to your table

layout of this kind of parcel terminals are seen increasingly in many places – supermarkets, office buildings, shopping centers, bus stations and other. It becomes not just an advantage, but a great need for the population.
If you want to be a part of this innovation, save some costs and improve your service, we are here. The build quality is very high and you will be impressed by the intuitive design that we will show you.
The benefits of Fresh Locker A
personal solution to keep the fast-moving goods fresh and those in need of special temperature conditions

Serving all markets that face the challenges of delivering packages of perishable products

Easily and conveniently receive shipments, while facilitating human life as online shopping is among the most developed sectors today

Short delivery time

Save shipping costs

High security and security of parcels

Receive packages in diff custom sizes – cabinets vary in size to meet the requirements of each customer

Easy operation – a simple way to use, accessible and understandable by any user. Additional convenience in managing deliveries through the mobile application
Cells keeping product fresh contribute to a significant improvement in consumer experience in the durable goods sector. The level of service provided by retailers is increasing, saving money and time.  
Don't hesitate! If you need this type of lockers for delivery, we are there. We will meet every requirement and every need to offer what your customers need.
STANDARD SIZE
WE offer Unique opportunity to customize our lockers as per your request. All sizes possible. Modular – could fit different spaces. Your Specific model includes only hot storage lockers, but:
Is available also with three options for storage:
Ambient Storage (room temperature)
Chilled Storage (2 – 6 C)
reezer Storage (-24 -18 C)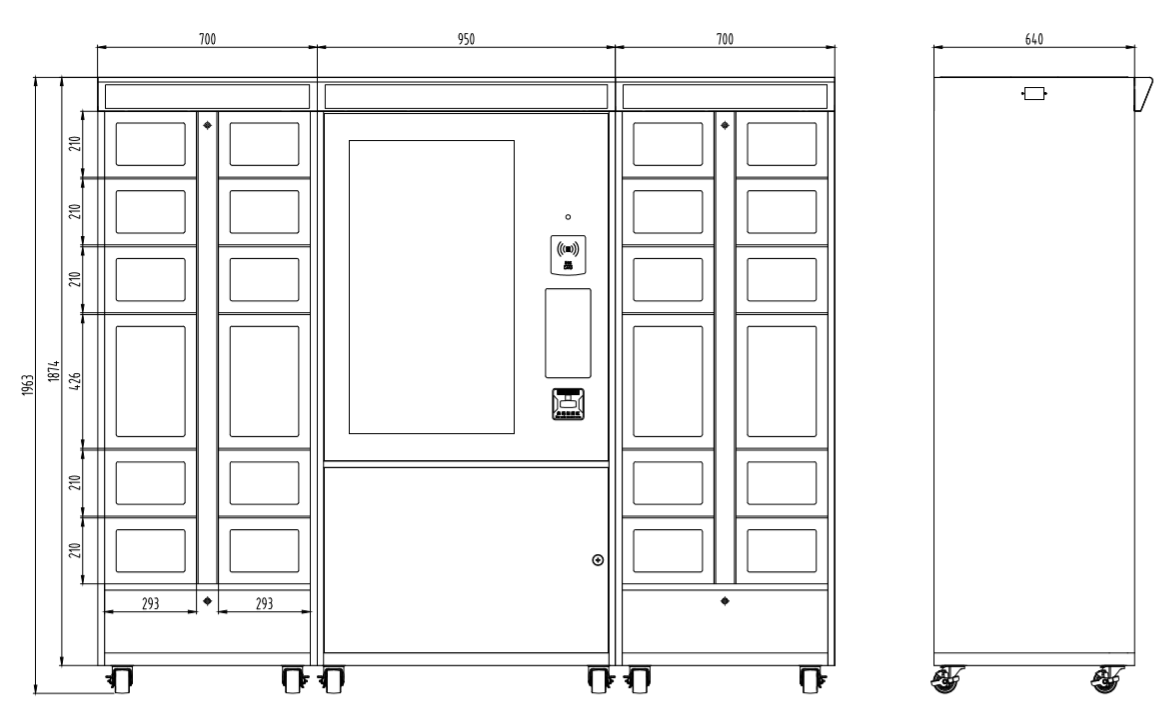 Product Category
Fresh locker
Refrigerated locker
Frozen locker
Function
Store or deliver fresh and frozen food, cold Chain Delivery
Advantages
1.Locker body adopts foam technique to guarantee the insulation function of the box.

2.It's quiet and energy saving with adopting of  frequency conversion tech.

3.Self-contained sterilization and deodorization function to ensure food safety and hygiene.

Configuration
LCD display; Emergency door opening;Internet connection;CCTV supporting
Refrigeration function;computer temperature control; frequency conversion tech;LCD display; Emergency door opening;Internet connection;CCTV supporting
Refrigeration function;computer temperature control; frequency conversion tech;LCD display; Emergency door opening;Internet connection;CCTV supporting
Tech parameters
1.Working voltage:AC220V ± 15%

2.Working humidity:10%RH-90%RH

3.Working temperature:-10℃~+40℃(-20℃~+60℃,can be customized)

4.Power consumption:Standby: ≤15W Maximum :≤75W

5.Rated power:350W

6.Temperature adjustment range:1℃-6℃

7.Temperature adjustment accuracy:1℃.

Applications
Shopping mall;supermaket;school;office building;community;train station and other densely populated areas.
Lets get in touch and discuss how we can help!
UK Office Location
Kemp House 152-160 City Road, London, United Kingdom, EC1V 2NX
Phone Number
Spain Office Location
Address: C/Colegiata N18, 28012, Madrid, España
Phone Number:
+34 (91) 0607378
Email Address
Warehouses - in 15+ countries around Europe and Middle East.